Painting: a magnificent obsession
"To me, painting represents someone's state of mind seen from a relentless mirror, suspended between self-therapy, quotation, reflection and instinct.
Painting is a tool to access Beauty, to improve and improve oneself through a journey made of self-analysis which does not indulge easy solutions".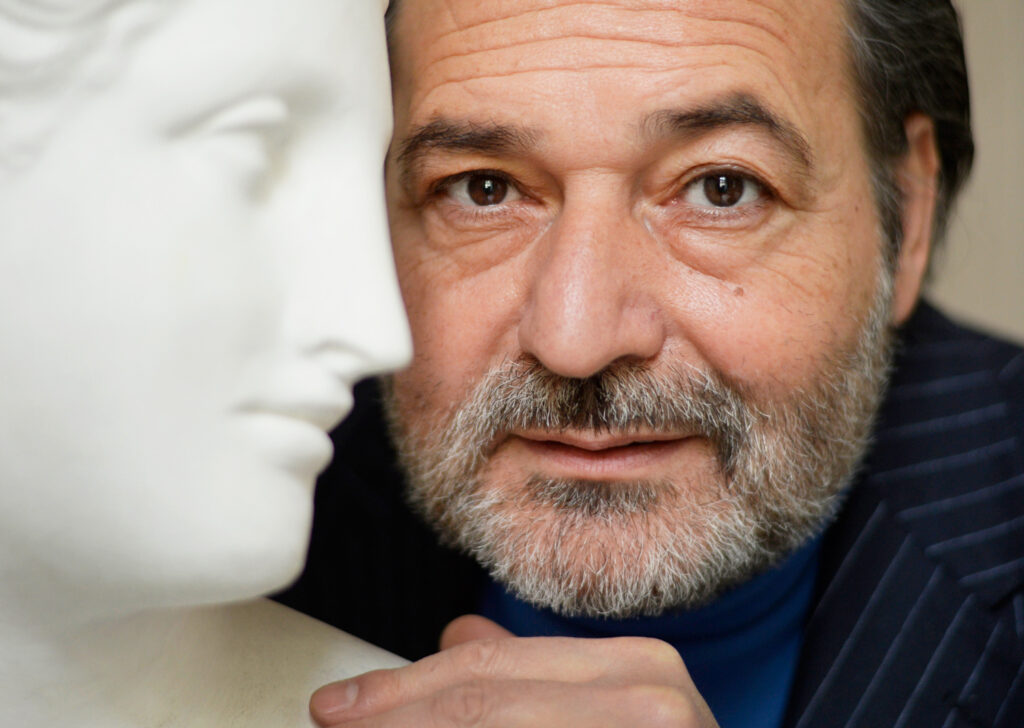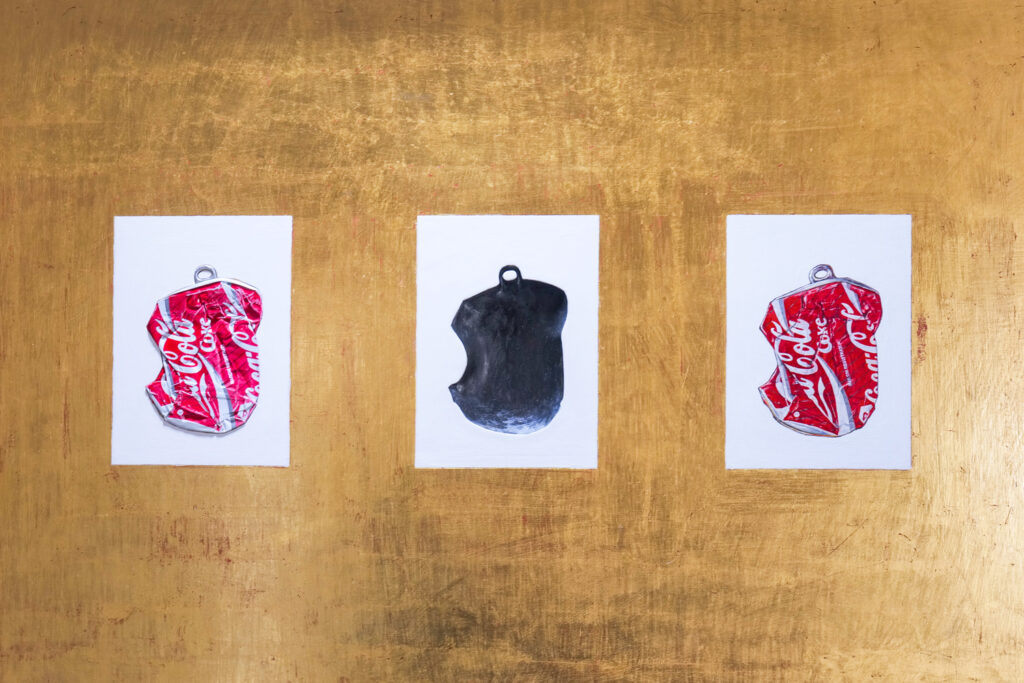 Salvatore Zito lives and works in Turin. He graduated in painting at the Accademia Albertina di Belle Arti, where he was Professor of Decoration. He is a classically trained painter who owns a spectacular technique which he applies to every single artistic experience he encounters.
Zito works using cycles: The Ferrari, Coca-Cola, watermelons, tides, still life, Spiderman and popsicles have gradually filled his works and he addressed them in an ever-different way: sometimes through impetuous passion, sometimes through cultured quotations, sometimes through a heart-breaking gestuality and expression supported by a rich and intense chromaticity.
Salvatore Zito loves being seduced by the intrinsic beauty of colour which he uses to build a subtle irony.
International Experiences
Zito's debut on the international scene is linked to personal exhibitions and multimedia events where painting, music, and poetry – works conceived for spaces designed to host them – are mixed together, offering to the public a unique vision: from Antico Edificio Banco de Espana a Vigo to Palace of the Popes in Avignone, without forgetting "Visioni di Hymnen", spectacular kermesse organized for the Circuito italiano dei Giovani Artisti at Sala Presse del Lingotto, in Turin.
His renowned still life or his cycles dedicated to human figure – the man and the myth – surprise for their ability to express clever chromatic transitions: it is light which becomes a prime force. Zito's panting of these years aims to represent a world made of simple things shrouded in a wonderful silence. Only when a fair and calculated balanced is reached, his compositions acquire a special meaning of serenity and completeness. He has also exhibited at the Istituto Italiano di Cultura e Maison Francaise of Nairobi and at the Istituto Italiano di Cultura of Addis Abeba.
The recovery of figuration
Visionariness and appropriation find their place inside the large canvas of the personal exhibition "Paesaggi della Memoria" at the Galleria Civica d'Arte Contemporanea Palazzo Lomellini, but, more importantly, by winning the First National Painting Prize "Giuseppe Sobrile" organized by Galleria d'Arte Moderna and Assessorato per la Cultura di Torino. He was awarded with a prominent role for his clear recovery work of the characteristics of figuration. One of his works is donated to the City of Turin to join Galleria d'Arte Moderna's new collection.
The icons of his time become subjects for Zito's paintings. The heroic style which prevails in his previous works, will manifest through the impetuosity of the pictorial gesture, which will shape, by taking possession of the red colour, the Coca-Cola cycle, on canvases made of gold, glossy and lacquered red from Ferrari's bodyshell and the wild, natural, exuberant red from exploded watermelons.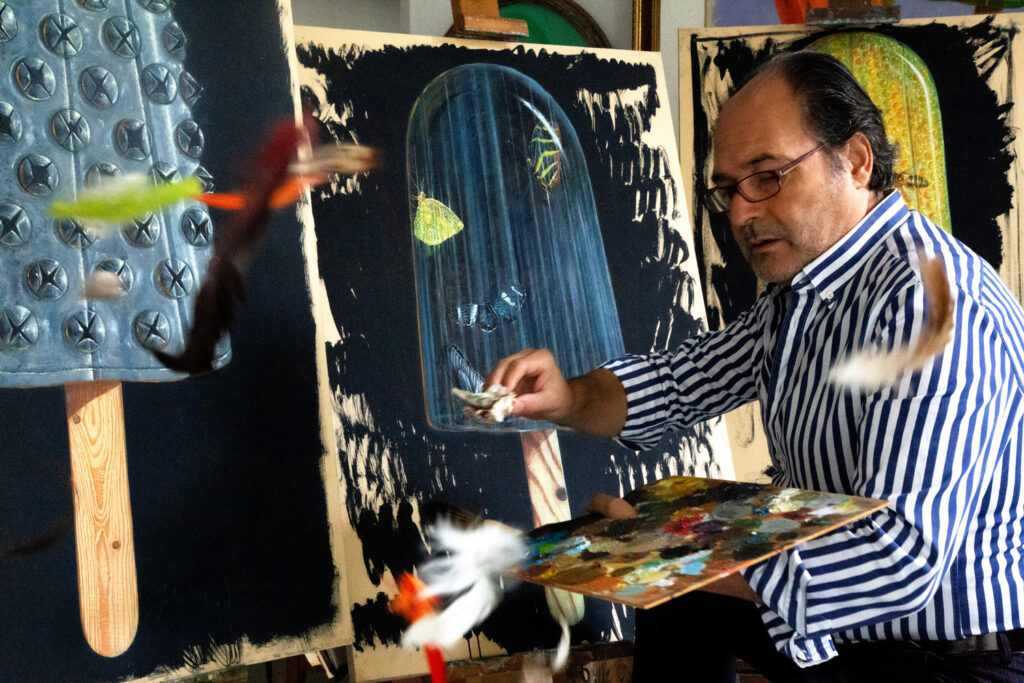 Zito, who has always been drawn towards design world, produces "Capricci d'Autore", a set of works made by different materials and techniques for Artissima, Ante ad Arte Catalogo Allemandi, Poltrona Frau-Area Project together with the mural ALTAMAREA for the Biennale dei Giovani Artisti del Mediterraneo. Salvatore's Zito creativity will interpret the centenary of Inter football team and Giro d'Italia for Mandelli Arte Contemporanea Milano.
Appreciated for his power and irony, for his lucid and refined interpretation of reality, Zito is confronted with challenging social themes for the informative AIDS campaign made by city of Turin, Gruppo Abele, and LILA, on the drought issue for Catalogo Trevi Flash Art Museum and on world hunger for Sermig Torino.
At the same time his research focuses on the interpretation of Spiderman's icon with his personal exhibition Pop-Up, his videoclip Zone-Spidersound which is part of Gam Torino's videolibrary and has been presented at the International Festival Synthèse of Bourges atXI Festival Anteprima Spazio Torino, at Teatro Arsenale di Milano, at Punto di Svolta and at Galleria Porta Palatina 13.
The encounter with nature
In 2005 he has been awarded with a prestigious prize for the best and most innovative architectural and artistic projects in Italy, presented at Triennale di Milano (Catalogo Marsilio editore).
In 2012 his precious painting immortalizes large scale formats and the animals' beauty by highlighting and bringing out particulars which compose tigers and leopards mantle or snakes multi-layered scales: "Mirabili Animali for the Museo Regionale di Scienze Naturali di Torino.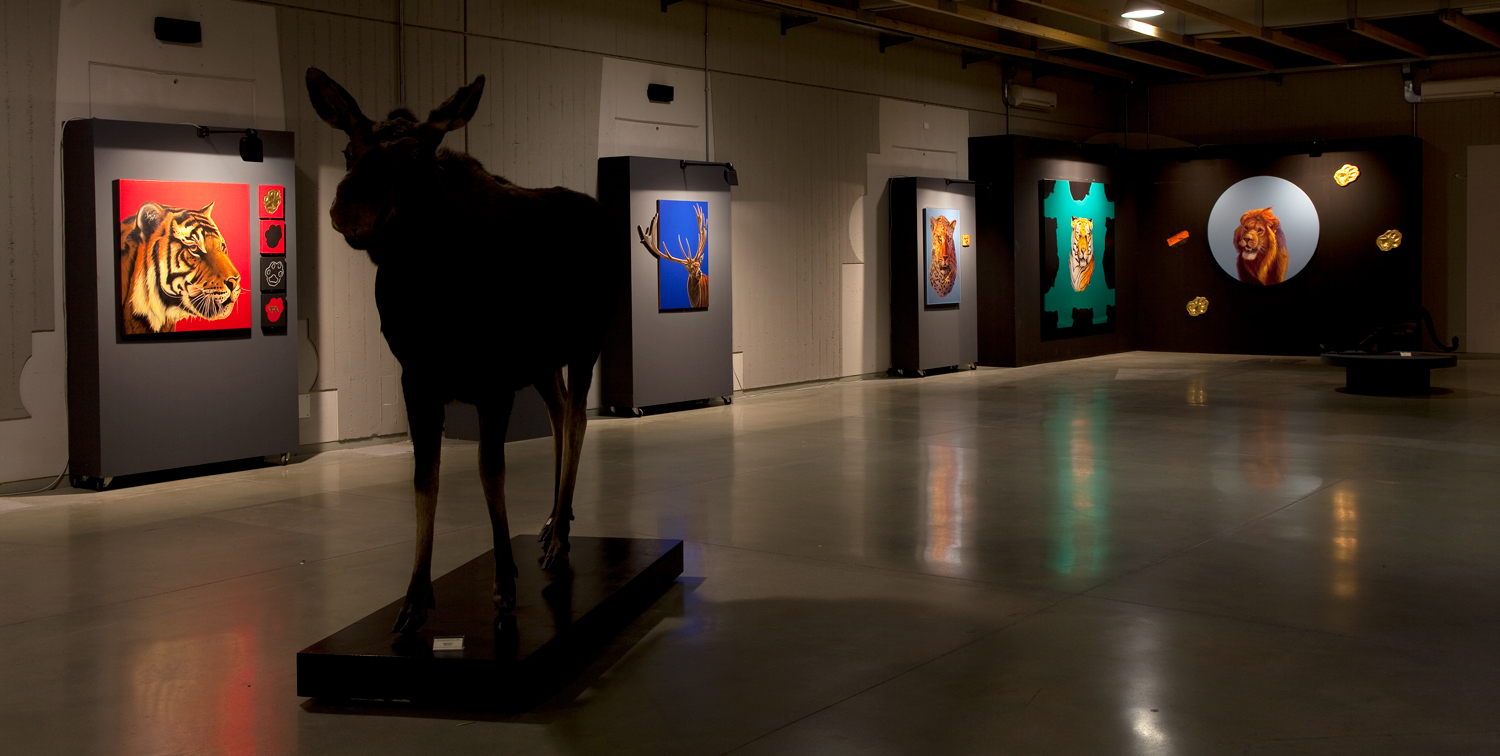 Among the artist's favourite subject, the "Pinguino" popsicle has its place in its traditional form, an ice lolly with a wooden skewer reworked by his creativity. Between 1997 and now Salvatore Zito's popsicles are countless, made in different dimensions and techniques, proposed in surprising interpretations: cityscapes, portraits, animals, vegetables – a lot of them are thorny, spiny, to remember the intrinsic aggressiveness of nature – together with the more playful ones. This outstanding intuition will see him engaged starting from 2006 for the Turin Winter Olympics by Gagliardi Art System Gallery with his very personal cycle "I Love Torino" which today adds up with "Nicecream", "Leggeri Stick Spinosi" and "Pain had no Stick" for Galleria Meb, Asilo Bianco, Casa D'Arte Viadeimercati, Paolo Tonin Art Gallery, Casa Bossi, Fondazione L'Arte x L'Arte Buenos Aires, ArtParmaFair and Affordable Art Fair Milano.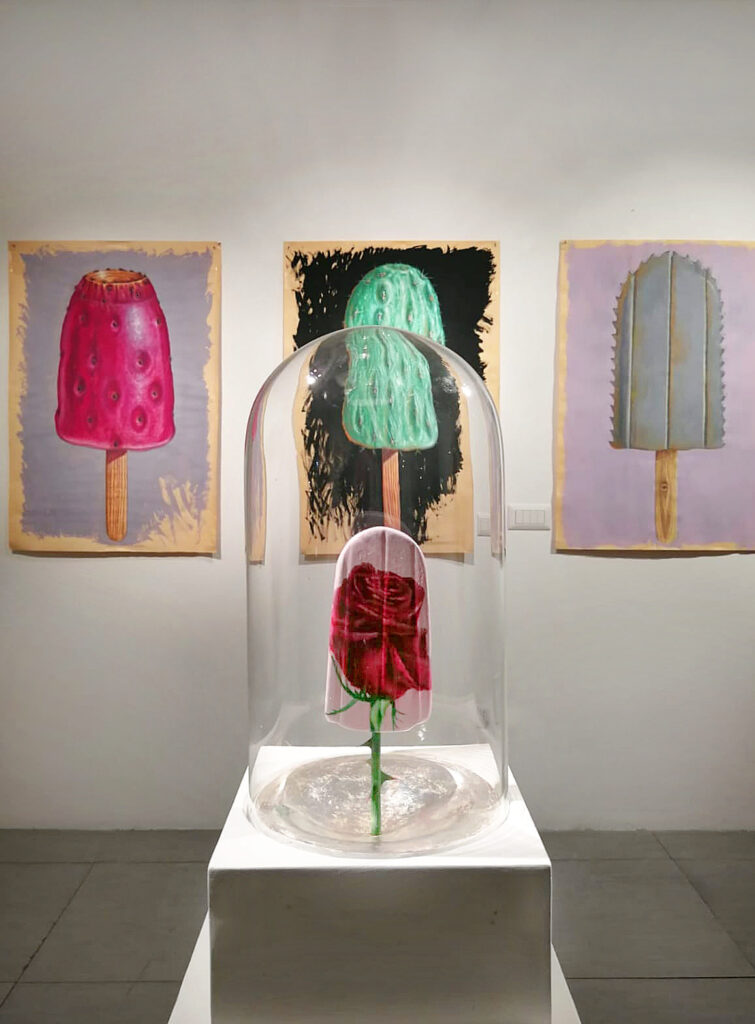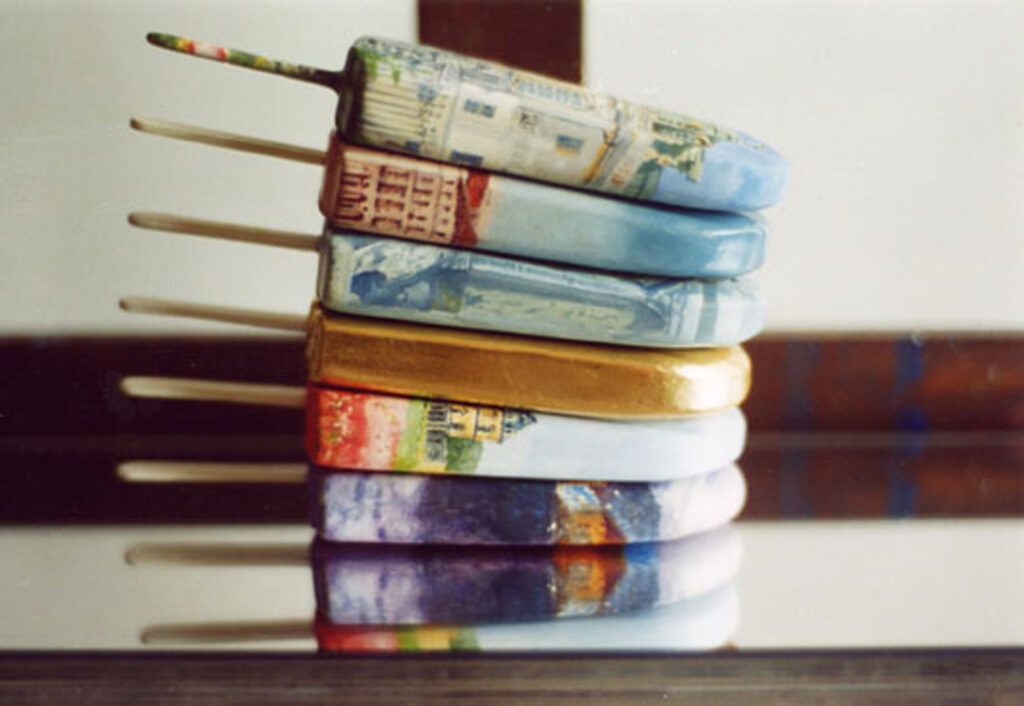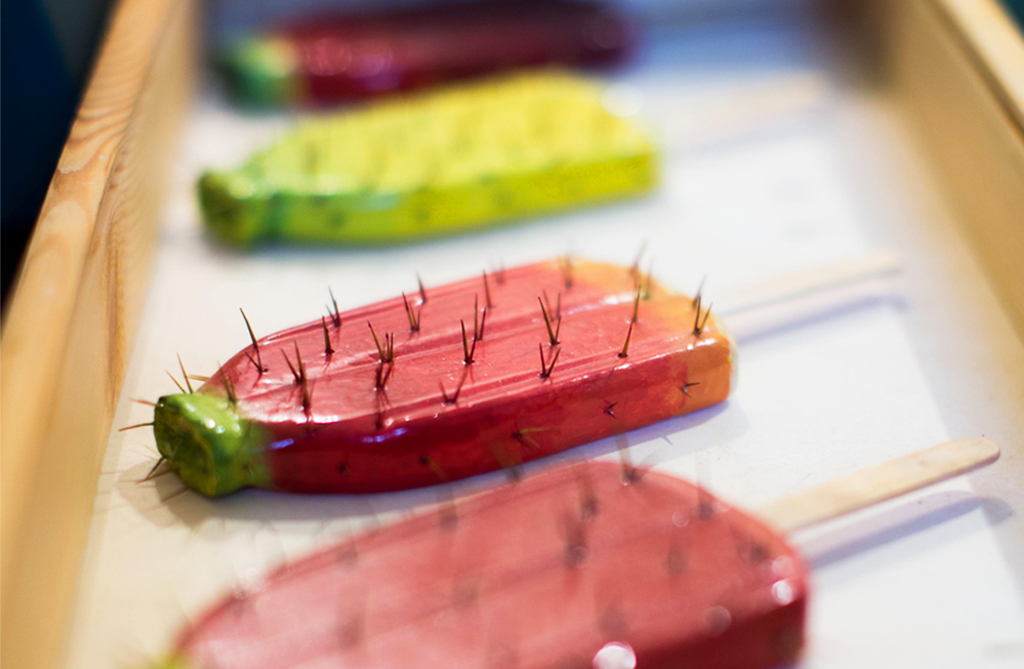 In 2021 Salvatore Zito wanted to be an active part of the celebration of 20 years of Fondazione Ricerca Molinette, donating one of his works for charity. In the same year he presented some visionary Open-Air installations, which were enjoyed in a double event at the Green Pea in Turin, and held a solo exhibition at the White Lands Art Gallery where took place the artist's most sharp experimentations, blending together painting and embroidery on canvas.
A unique exhibition, where Zito's interlaced his hands with his mother to recreate a shadow for the different subjects portrayed on different painting grounds.
Zito is aware of sensitive issues such as green culture, together with topics linked to the new digital artistic borders. The innovation theme brought him to take on digital and crypto art worlds, with an exclusive NFT collection named Tasty Ice-cream, enriched by soundscapes and 3D anima- tions.
Unique works, taking distance from their material dimension to become Blockchain digital codes. During the Paris exposition taking place in spring 2022 and hosted by Art Research Paris, this collection and the artist's last works will be available to discover.
"Painting is being yourself and beyond simultaneously. It is part of a universe of shapes and colours which isn't your own anymore and will touch somebody who knows nothing about you but will bind to you forever"